Spotlight on over 40 Businesses Supporting Resource Families in Ventura County
Foster VC Kids "Businesses With Heart" program shows how local businesses can step up to encourage and support youth and the resource families caring for them. Our Businesses with Heart program provides discounts on goods and services to foster families and caregivers, including internships and job opportunities to inspire foster youth.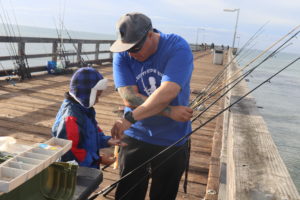 Kevin Brannon of Reel Guppy Outdoors, and one of our valued BWH partners, started his youth program to encourage children by introducing them to fishing and being outdoors. He says, "I want to teach kids that they can lead a good life, especially kids who have been through trauma."
If you're thinking about becoming a Businesses with Heart partner, there is no cost in addition to the savings for the resource families.
PizzaMan Dan's has graciously helped resource families and youth in care over the years with savings on his delicious pizzas.
"Offer your unique business services to foster youth and their families, it doesn't have to be a cash donation," says Dan Collier – Founder of PizzaMan Dan's.
Chipotle Mexican Grill and BWH partner has hired more than 16 foster youth in local restaurants. Scotty Shadix, Field Leader with Chipotle Mexican Grill says, these youth are "so driven, they've overcome some significant challenges and they're incredibly reliable. They seize the opportunity."
Jaci Johnson, Program Coordinator/Resource Family Recruitment, Development & Support for Ventura County Children and Family Services' BWH program says, "We work to ensure children and families in our community are connected with the resources and opportunities to help our youth thrive.  Working together – social workers, businesses, coaches, teachers, volunteers and resource parents – we are all responsible for nurturing these children and teens so they can grow into healthy adulthood."
Thank you to all our lovely BWH partners—your support is so valuable to us at Foster VC Kids.
Click here to see a list of all our wonderful BWH partners!