Another Successful Event Raising Funds for Children's Services Auxiliary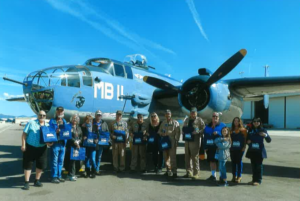 Foster VC Kids kicked the holiday season into overdrive this past year! With help from our friends at KVTA News AM 1590 and Ventura Hobbies, seven lucky donors walked away with the ultimate prize – a ride in the only PBJ-1J Mitchell Bomber B-25 in the world!
KVTA News AM 1590 promoted the Vintage WWII Aircraft Ride teaming up with Ventura Hobbies with the ultimate goal of raising funds for the Children's Services Auxiliary for foster children and teens in Ventura County.
Foster VC Kids was on the tarmac at the Camarillo Airport CAF SoCal Air Force Museum hanger, along with Vern from Ventura Hobbies and the KVTA crew, to greet the excited winners and send them off on an adrenaline pumping flight to remember!
We are so thankful for our donors and the support from our friends at KVTA and Ventura Hobbies. We had a truly amazing experience!
.